La Selva Provides Massage Therapy
and Bodywork to You!
| | |
| --- | --- |
| Conventions | Grand Openings |
| Conferences | Employee Benefit Fairs |
| Sports Events | Membership Drives |
| Health Fairs | Working Retreats |
| Spa Promotions | Employee Appreciation Day |
| Open Houses | Executive Training |
| Secretary's Day | Health Club Promotions |
| Birthdays | Community Events |
| Holiday Parties | Wedding Parties |
| Charity Galas | Family Celebrations |
| Trade Shows | Workplace Wellness Program |
| Corporate Events | Teacher Appreciation Day |
| School/College Events | Fund Raisers |
This Service Is Provided By Massage Practitioners Professionally Trained in Effective, Safe Seated Massage Techniques.
Economical and Easy to Arrange
All you need to do is arrange the time and provide the space. A massage chair can be set up quickly and almost in any location. Because chair massage is brief, the cost per person is a fraction of the cost of table massage.
What is Chair Massage?
It's a brief, stress-reducing massage given to an employee seated in a comfortable, supportive and portable chair. The massage chair is supplied by the practitioner and can be set up quickly in almost any location.
Lasts from 5 to 30 minutes

Uses no oil and massage is delivered while the client is clothed

Addresses tension primarily in the upper body (scalp, neck, shoulders, back, arms, and hands)

Leaves the receiver feeling relaxed, refreshed and rejuvenated!
Chair Massage for Your Workplace: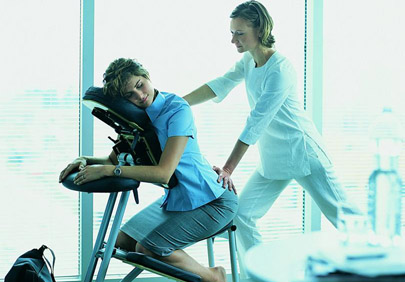 Healthy Employees Create a Healthy Business!
Chair massage in the workplace offers many advantages to the employee:
Reduces Muscle Tension, a Major Contributor to Chronic pain, Repetitive Strain Injuries and Low-Back Pain.

Boosts Alertness and Productivity

Reduces Absenteeism

Enhances Work Relations

It Makes a Great Incentive

It is an Affordable Wellness Program People Actually Use

It Gives Employees a Tool for Controlling Their Responses to Stress

It Reduces Employee Turnover.

There is No Up-Front Investment in Equipment or Facilities

Chair Massage is Flexible Enough to Schedule into the Workday Without Interrupting Workflow.

Chair Massage Lowers Health Care Costs.
Let us show your employees how much you appreciate them!
Chair Massage for Your Successful Event:

Set Your Event Apart with a Guaranteed Crowd Pleaser!
Chair Massage Leaves a Lasting Impression

It Increases Event Participants' Satisfaction

It Attracts Attendees to Your Target Area, Booth, or Display

It Thanks Attendees for Participating

It is Ideal at Events Where People Put in Long Days on Their Feet or Sitting in Chairs.
Make Your Event The Talk Of The Town!
Book Your Next Event Today!
865.622.3330